SHIPS LOGS
Zephyr Air Transport's fleet of continuous merchant dirigibles is continually scouring the many earths, connecting outposts and communities far and wide. Jobs are picked up "on the fly" by ships in your area, and may pick up whatever additional work they're able to drum up on their own. Each ship in our fleet is owner-operated, working under the auspices and supplementary logistical infrastructdure of Zephyr Air Transport Inc.
If you're on a crew, feel free to post to your ship's logs at any time! Zephyr Air Transport believes strongly in transparency.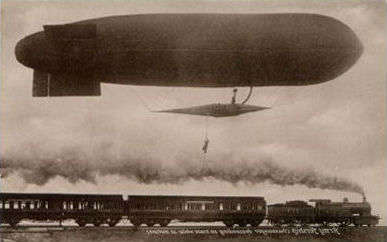 MOST RECENTLY UPDATED SHIPS' LOGS
Whisper Genius
Of course I knew all the cash would get soiled. I told the giant cavies that's what it was for--it was the only way to interest them in breaking it out of the bank. My plan had been to direct them to pilot the ship to a safe location not more than a day or two away, and then have them dump it where I could retrieve it. Naturally, I was planning on having it laundered, but how messy could it get after just a day or two? It turned out very messy. Something about all the smells and bacteria and
...(READ MORE)
Count Almaviva
Successivamente, furono le imperscrutabili Pizzelle. Primo, affascinano con i loro schemi, impressi dalle ferriere dei più oscuri troll, proprio come si trovano sulle pareti perdute dei giardini più antichi e corrotti. Usa le mani per allontanare l'edera e vedi la trama, le creste, il bassorilievo e spazzoli via la crescita eccessiva per vedere il quadro generale. Scoprirai che è una storia, una storia molto antica, e la senti nelle tue ossa ... le persone sono riunite, un viaggio verso l'alt
...(READ MORE)
Starry Skye
Heterocera Draconus Ignis Plasmus -- the Fire Breathing Plasma Moth. I do love that fire breathing plasma part. Dragon Moth in the common parlance. The Dragon Moth emerged from its chrysalis in re-entry. I hung on to its hairy horns and rode it to the surface. Hurtling through the atmosphere, its wings opened and caught fire, then hardened up with their radiation resistant shell. I hung on to its hairy back and barely got my eyebrows singed. (When I took the chrysalis out the airlock of th
...(READ MORE)
Billy Sabab
Time moves funny at Old Crag. I should have remembered that. So should have the crew. It seems like we've all been here before. It's been a few days at least. With the skies so overcast it's like the days never really come. The resort sits like a castle--because it is a castle--and we watch from the top of the turrets as the fog stretches out in the valley below. That is, when we're not drawn into the eerie din of parties long gone by in the ballrooms, women in gowns and men in tuxes and the
...(READ MORE)
Clammy Hamsphere
With War on the Mermaid Imperium on hiatus, we really miss it. And there really isn't anything else to watch. We've already watched all of The Daphnia Mysteries, Mission Atlas Supreme, The Big Fakey, Charm Market, Bones of a Theory, Planet 17, Enthusiasm Island, and Ishii Talent of the Four Winds, but nothing quite hits the spot quite like War on the Mermaid Imperium. Definitely our favorite show. On the Ancient Movie Channel we watched Electric Mummy Land for like the thousandth time, which
...(READ MORE)
Araceli 6/12/2018 10:47pm
Jimmy Three-hands
The hostel in Nudleton is run by the Turtlemen. The grocery is run by the Badgers. The Raccoons run the newspaper and the Foxes run the bar. The Demons are the lawmen, and wear their stars pointed upside down. Nudelton gets visitors from all over, so the streets are filled with strange folk--folks of all different colors and many different arms and legs. There are prospectors and wizards and cartographers and movie stars. What's the attraction? Why are there so many visitors to Bakemono
...(READ MORE)
choco loni
i call this one the round bomb. can you see why? just drop this pretty little fizzer on an unsuspecting mob and send them on a sweet escape. they'll get lost in a labyrinth of the senses, feel their way down garden paths and mazes, unwind surrounded by the scents of dittany of crete, jasmine, storax, rose, frankincense, tobacco, cedar, myrrh, musk and ambergris, till they find themselves at the heart of an ancient binding ritual, being performed by cultists. what controls the output to the
...(READ MORE)
Ventura 6/9/2018 10:55pm
Biowave 9
MOON RIVER TIDAL FLOW IS ENGAGED SPACE IS ABOUT TO GET VERY REAL LOCKING... LOCKING... ALL SYSTEMS NOMINAL RELEASE LAUNCH VEHICLE LAUNCH RELEASE VEHICLE VEHICLE RELEASE NUMERICAL SOLUTIONS ARE OBTAINED USING A BOUNDARY VALUE PROBLEM SOLVER LAYER FLOW NETWORK EFFECT OF STRETCHING i've never stretched out like this before CHECK STATUS... CHECK STATUS... A ONE AND A TWO RIEMANN SYMMETRY DETECTED SURFACES EVERLASTING AHOY MATEY
...(READ MORE)
Eduardo Gross
"No Sergeant Rico. And that's an order!" "Captain, I believe there could be survivors on that ship." "We've both seen the footage, Sergeant. Whatever might be "surviving" on that ship isn't human." "They may only be infected, sir." "It's too great a risk, Sergeant. I'm sorry. You lost good men there, but you know as well as I do just how dangerous those pumpkin heads are. And we've never dealt with the Haunted Type. There's stric
...(READ MORE)
Elvin Nelson
Oh boy do I love blimp nurseries! All those newborn blimps, still dripping with embryonic helium, perched on the spindly tendrils of pearly cloud spiralling out from the Mother Ship in the purple sky. This truly is one of our most precious resources, and the crew and I stand in awe of its magnificence. We really did make the right choice about sinking our tremendous coconut-currency windfall into this new investment opportunity, and are sure that we've put our money and our trust into the right
...(READ MORE)
Grace Gearhorn
Orin is on his bike, pedaling down the sidewalk. We're pacing him at an altitude just over the roofs and the telephone lines. It's a little disorienting, given the fact that we're only about 3 1/2 inches long relative to this environment, so things are at once both closer and farther away than they appear. Still, we can keep him in sight with far less moving around than if we were buzzing right behind him. Or so we thought. We'd gone slightly ahead, keeping an eye out for mad dogs and bullies
...(READ MORE)
Slobodkina
Hey so my vacation fell through (really weird series of coincidences) and so it turns out I do have time to ship out with the Thot Slayer for the summer. Yay! But, as I was waiting at the air ticket counter while they looked for my plane reservation I began to have some questions about Zephyr Air Transport and its role in colonialism? Specifically, doesn't Zephyr Air Transport, through the technology it employs, serve to perpetuate colonial symbolism and a yearning for a "simpler time"
...(READ MORE)
Boy Yardee
Snow cones! Baked Alaska! Frosted Flakes! The crew of the Golden Stone needs to eat, and I'm the chef that puts the food in front of them. Cold as it is, the crew needs to burn the calories, so I've got to keep them fed. And feed them fat! To burn! Sometimes it's just straight up lard, scooped into a cone, its greasy white goodness dripping down the sides. Eat it up, you mushers! And be glad that when we do have ice cream, it isn't just cold mashed potatoes like we used in the movie.
...(READ MORE)
Atlas 6/3/2018 10:05pm
Alex Marleybone
Well this was unexpectedly tragic. Poor Persephone, she was a good engineer. And the machine gone, too, almost made this job for nothing. Weeks of long work and danger for this. Losing a good crew member and the machine. Chances are we should attempt to navigate Persephone's location from where she would have landed, judging by the takeoff arc. And to think it was once used for mining excavations. Despite the collected relics, we should not leave a crew member behind, unless she really is gone a
...(READ MORE)
captain ryan
My ship is a savage!!!!!!!!!!!!!!!!!!!!!!!
...(READ MORE)
See all ships' logs here